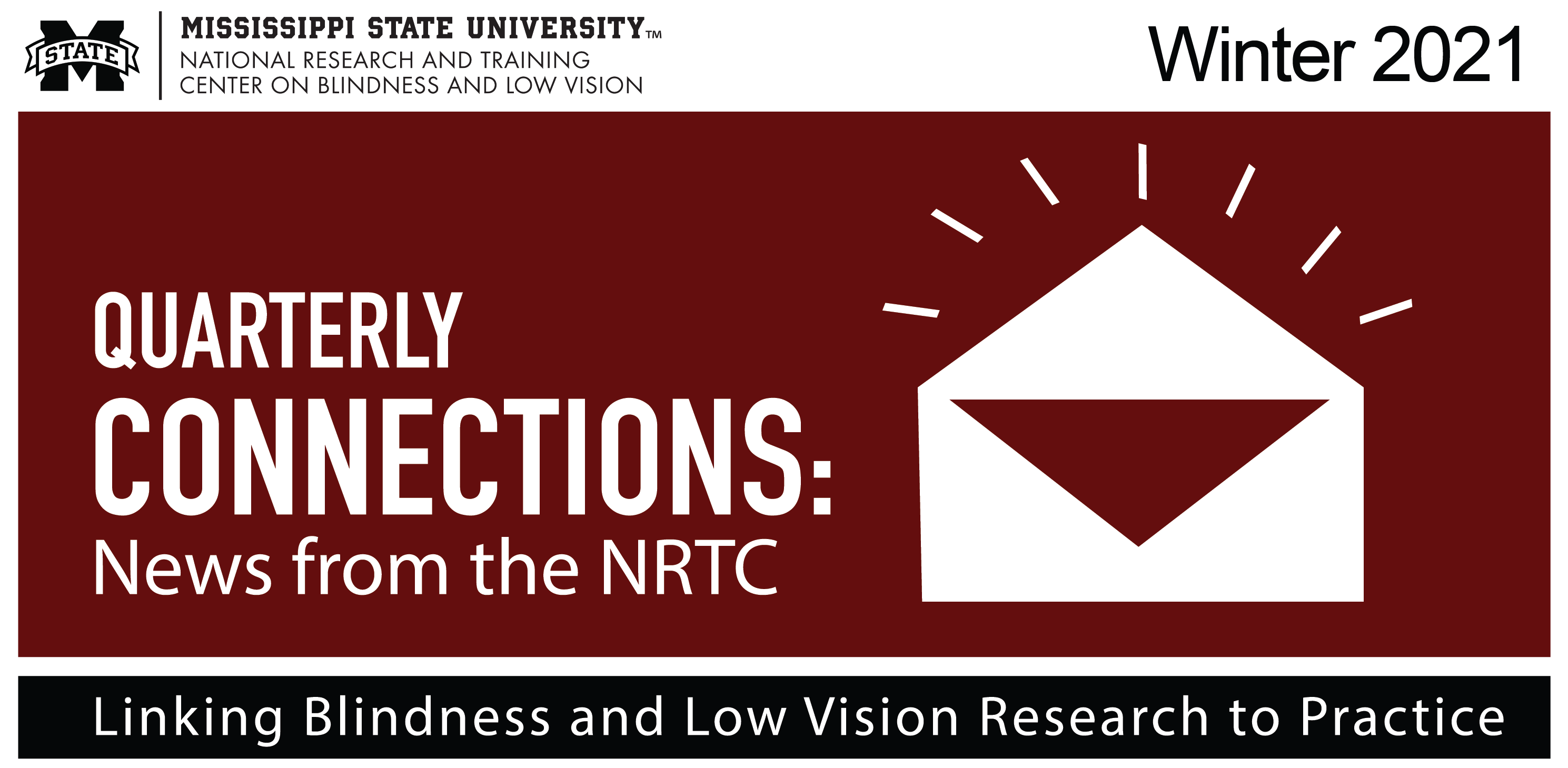 NRTC Awarded Second Major National Grant
The NRTC was again awarded the Independent Living Services for Older Individuals Who Are Blind Training and Technical Assistance grant sponsored by the Rehabilitation Services Administration under the U.S. Department of Education. This 5-year grant began on October 1, 2020, and provides approximately $3 million in funding. Michele McDonnall, NRTC Director, is happy that the funding will allow the NRTC to continue to improve the provision of services to older individuals who are blind. To learn about the three major projects of this grant, read our NRTC news item.
---
Current Research Highlights: Access Technology in the Workplace
For individuals who are blind or have low vision (B/LV) to be competitive in the labor market, they must have digital proficiency, which often requires access technology skills. Access technology (AT) includes both traditional assistive technologies created for people with B/LV (e.g., screen reader) and mainstream technology with built-in accessibility features (e.g., smartphone offering voice-to-text). The use of AT in the workplace can serve as a critical equalizer for workers with B/LV. Unfortunately, we know very little about AT use in the workplace or the associated challenges individuals may experience with it.
This NIDILRR grant project will involve an exploratory study of B/LV workers and those seeking employment to better understand how AT is being used in the workplace, how AT is evolving, the process of adopting new AT, challenges experienced with current AT, and gaps in available and needed AT. We will conduct multiple surveys with participants over the five years of the study to determine how technology use changes over time. We will also assess AT use, skill, and self-efficacy and compare these among people who are employed and unemployed.
This project will substantially advance knowledge about workplace AT, allowing us to make recommendations for AT users, technology companies, vocational rehabilitation professionals, AT specialists, and employers. We are partnering with several technology companies for this project, including Microsoft, Google, Vispero, Airia, and OrCam. We will share our survey findings and feedback from participants with these companies, with the hope that they will be interested in addressing gaps identified in the AT that is currently available. We hope to add additional technology company partners in the coming months.
Our technology company partners will receive an annual report with our findings and will be invited to participate in a webinar to discuss the results. We will develop publications for consumers and peer-reviewed publications that describe the results of the study. Additional resources to be created include a continuing education course for service providers and a guide for consumers on AT use in the workplace, and a fact sheet to help professionals identify appropriate AT for consumers in the workplace.
We are now in the process of recruiting individuals with blindness or low vision (age 21+) who are working or interested in working to be a part of this study. Individuals interested in participating can complete our pre-screening survey or call 662-325-2001 to schedule an appointment for a telephone screening. We hope to have all participants identified before launching the first survey in the late spring or early summer of 2021.
For more information about this research project, visit our research project webpage.  
---
Training and Technical Assistance
New Courses
We have three new courses available:
Job Search Skills for Training for Transition Age Youth provides an overview of the Putting Your Best Foot Forward program, short-term and long-term outcomes, feedback from service providers and youth who took part in the study, and implications for the provision of work experiences and job search skills training (1 hour). 
Orientation and Mobility for those who have Multiple Health Impairments reviews what orientation and mobility services are and describes how they can benefit individuals who face additional mobility impairments like those who need to use a walker, support cane, wheelchair, or may have limited strength or stamina (1.25 hours). 
Social Isolation, Aging, and Vision Loss discusses factors like age, vision impairment, and overall health status and how they contribute to placing individuals at higher risk for social isolation (1 hour).
All courses are available through our learning management system. For more information about our courses, visit our Frequently Asked Questions course page.
---
Other NRTC News
RRTC Advisory Council Assembles
The NRTC virtually held our first Advisory Council meeting for the new 2020-2025 Rehabilitation Research and Training Center on Employment of People who are Blind or Have Low Vision grant on December 17 and 18.
The ten-member Advisory Council members include representatives for consumer groups, national professional organizations, and businesses. The following members will serve during the five-year term of the RRTC grant: Amy Porterfield (National Federation of the Blind), Deborah Harlin (Helen Keller National Center for Deaf-Blind Youths & Adults), Donald Overton Jr (Blinded Veterans Association), John McMahon (Association for the Education and Rehabilitation of the Blind and Visually Impaired), Kathryn Frederick (American Council of the Blind), Lee Nasehi (VisionServe Alliance), Matt Wieseler (National Industries for the Blind), Megan Lawrence (Microsoft), Penny Rosenblum (American Foundation for the Blind), and Ray Hopkins (National Council of State Agencies for the Blind).
The RRTC Advisory Council will assemble quarterly to receive updates about project activities and provide input. During this inaugural meeting, Advisory Council members and NRTC research and training staff discussed our seven new research projects and upcoming training and technical assistance activities. Michele McDonnall, NRTC Director, believes the input of these key stakeholders during this initial planning stage and consistently throughout the grant cycle will ultimately "lead to more impactful research and outputs that will truly address needs in the field and be as relevant as possible to each of our target audiences – service providers, individuals with blindness and low vision, employers, as well as fellow researchers."
---
Request for Nominations
Our National Technical Assistance Center on Blindness and Low Vision (NTAC-BLV) website highlights a selection of employment success stories to demonstrate that there is no such thing as "jobs for blind people." With appropriate training and equipment, people who are blind or have low vision are equally successful in a variety of professional fields. Our features include teachers, lawyers, engineers, architects, florists, and more! If you or someone you know would like to be considered for an employee feature, please email nrtc@colled.msstate.edu.
---
Vision Specialist Program Updates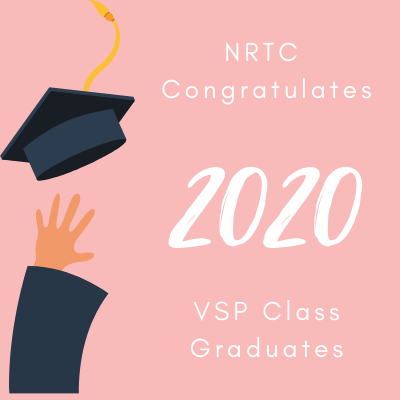 We are proud of the ten graduates of our Vision Specialist in Vocational Rehabilitation program who "met an extraordinary challenge during COVID-19 to rise above not only in the demands of this program but in their professional roles." Read the NRTC news item for more information about our graduates.
Additionally, we are pleased to announce that, after a record number of applicants for the 2021 Vision Specialist cohort, we have selected 16 professionals from 14 different states for the new year: Anna Pfeiffer (Minnesota), Derrick Voltz (Michigan), Heather Allen (Vermont), Jennifer Finnerty (Ohio), Karen Ferguson (Tennessee), Korri Sanchez (Pennsylvania), Lisa Beard (New Hampshire), Lisa Wilson (Arkansas), Mariel Zeller (North Dakota), Mike Webb (South Dakota), Miranda Delanty (Illinois), Priscilla Ngome (Massachusetts), Rachel Horowitz (Maryland), Rita Yeager (South Carolina), Rosemarie Van Ham (Michigan), and Timothy Vallier (Michigan).
Our selected participants for the 2021 program will begin their rigorous course work with the Rehabilitation of Persons who are Visually Impaired course in January. Three of these courses are available to take individually and may be transferrable to other universities' programs. More information about our courses and the program is available on our website.
---
2021 IL OIB-TAC Webinar Series
The IL OIB-TAC is kicking off our webinar series for 2021 with American Printing House (APH) on Friday, January 15, at 2:00 PM (CST). In this webinar, learn about the APH ConnectCenter hub serving the field of blindness and visual impairment and how your agency can partner with APH to improve your connections. Registration is required. For more information and to register, visit our Community of Practice event page.
---
Publications, Presentations, and Miscellanies
Publications
Stinson-Perez, S., & Lang, A. H. (In press). Independent living older blind programs in the United States: State trends based on best practices in the administration of the older blind program. Journal of Visual Impairment and Blindness.
Upcoming Presentations
Moffitt, C. & Steverson, A. (2020, January 26-27). Putting Your Best Foot Forward Trainer Workshop [Virtual Training]. National Research and Training Center on Blindness and Low Vision.