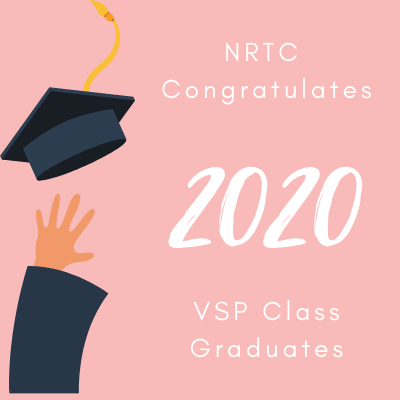 Our 2020 Vision Specialist in Vocational Rehabilitation graduate program has come to a close. This year, ten students will successfully complete the program. Sylvia Stinson-Perez, Vision Specialist Program Director, is extremely proud of these graduates, who "met an extraordinary challenge during COVID-19 to rise above not only in the demands of this program but in their professional roles."
Our 2020 graduates are Samantha Ashmore (Mississippi), Crystal Ford (Florida), Shiquita Fulton (Alabama), Betsy Hermanson (North Dakota), Nicole Markulics (Pennsylvania), Sharon Moore (Arkansas), Kelli Parker (Florida), Meredith Perry (West Virginia), Jereme Vanden Heuvel (Michigan), and Bethany Veal (Louisiana).
This graduate program is funded through the support of a Rehabilitation Services Administration long-term training grant. It includes four graduate courses for rehabilitation professionals to provide the opportunity for professionals to gain the knowledge, skills, and confidence to effectively meet the unique needs of individuals who are blind or have low vision. Students learn about adjustment to vision loss, the rehabilitation system, and important resources throughout the year.
We are pleased to announce that, after a record number of applicants for the 2021 Vision Specialist cohort, we have selected 16 professionals from 14 different states for the new year: Anna Pfeiffer (Minnesota), Derrick Voltz (Michigan), Heather Allen (Vermont), Jennifer Finnerty (Ohio), Karen Ferguson (Tennessee), Korri Sanchez (Pennsylvania), Lisa Beard (New Hampshire), Lisa Wilson (Arkansas), Mariel Zeller (North Dakota), Mike Webb (South Dakota), Miranda Delanty (Illinois), Priscilla Ngome (Massachusetts), Rachel Horowitz (Maryland), Rita Yeager (South Carolina), Rosemarie Van Ham (Michigan), and Timothy Vallier (Michigan).
Our selected participants for the 2021 program will begin their rigorous course work with a Rehabilitation of Persons who are Visually Impaired course in January. Three of these courses are available to take individually and may be transferrable to other universities' programs. More information about our courses and the program is available on our website.