The National Research & Training Center on Blindness & Low Vision (NRTC) is hosting our Play Without Limits: Adapting Sports & Games for the Blind awareness event on Wednesday, September 27, from 9-11 a.m. on the MSU Drill Field!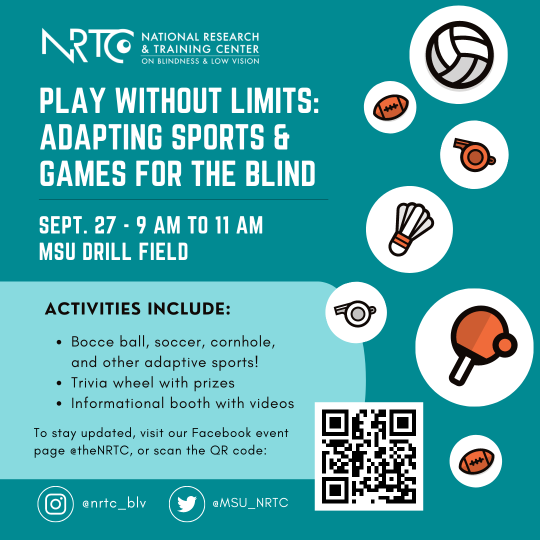 We will host an informational booth with adapted activity demonstrations including bocce ball, soccer, cornhole, and human guide techniques. Students and other participants can watch blind hockey, goalball, and beep baseball videos to learn how people with vision impairments play competitive sports. We will also have a trivia wheel, and participants will have a chance to win prizes. In case of rain, we will postpone the event to the following day, September 28. If you are interested in volunteering for the event, please fill out our form.
Our primary purposes in creating this event are to raise awareness in our community and provide guidance to organizations so that they can also host an adaptive sports awareness event. We will create a community outreach guide that provides advice and tips about hosting such an event. This activity is one of the technical assistance projects funded under our National Institute on Disability, Independent Living, and Rehabilitation Research grant. This will be the second community outreach guide developed for the project; the first was the How to Host a White Cane Awareness Day Celebration guide, which has been a popular product.
We hope this event will spread awareness, provide educational opportunities, and perhaps spark some interest in students to work in the blindness and low vision field. This awareness event aligns with the NRTC's mission to enhance employment and independent living outcomes for individuals who are blind or have low vision through research, training, education, and dissemination.
To learn more about the NRTC and our resources, visit the NRTC website and NTAC-BLV website.