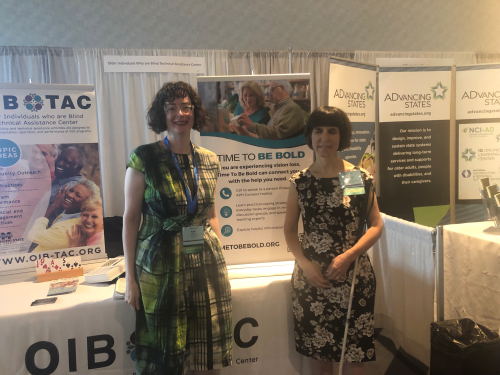 Program Director Kendra Farrow and Older Blind Specialist Polly Abbott represented the NRTC and the Older Individuals who are Blind Technical Assistance Center (OIB-TAC) at the 2023 Annual USAging Conference and Tradeshow on July 16-19 in Salt Lake City, Utah.
The conference is the largest gathering of leaders in aging in the United States. Participants include government experts, policymakers, business leaders, and Aging Network practitioners who share knowledge and research about the field of aging.
Farrow and Abbott held an exhibit booth to share OIB-TAC resources including Time To Be Bold, a public awareness campaign to educate older individuals with vision loss about available services.
Farrow mentioned that it was exciting to "share about free services available for individuals with vision impairment or blindness with professionals from more than 30 states." Both Farrow and Abbott encouraged attendees to visit the Time To Be Bold website to find local services that provide individualized strategies and resources for individuals with blindness or low vision (B/LV).
OIB-TAC offers technical assistance through courses, trainings, and other resources to help professionals who serve older individuals with B/LV. To learn more, visit the OIB-TAC website.