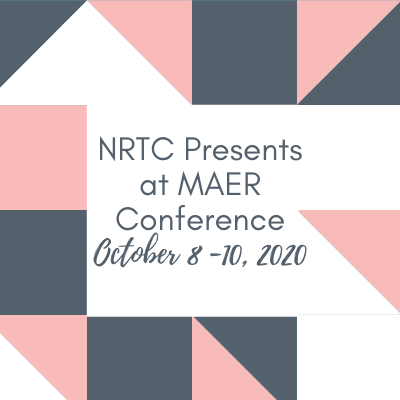 Many NRTC research and support staff participated in the Mississippi Association for Education & Rehabilitation of the Blind and Visually Impaired (MAER) Virtual Conference on October 8-10. This year's theme was "Beyond Vision Loss: Partnerships for Successful Transition Toward Autonomy."
Dr. Karla Antonelli, research scientist, believes that having a conference for our state is "valuable in getting to know our local colleagues in the field and learning about current services and resources available in our area." Antonelli presented on the status of 4to24, the employment-focused app for youth and parents of youth with blindness or low vision (B/LV) or deaf-blindness (DB). The B/LV version is set to release at the end of this year.
Three other NRTC staff presented at MAER. NRTC Director Dr. Michele McDonnall presented on "Changing Employer Attitudes Towards People who are Blind or Have Low Vision." Along with an overview of research on employer attitudes, McDonnall discussed techniques and training opportunities for vocational rehabilitation service providers to better advocate for their consumers' employment. Kendra Farrow, research and training associate, and Cantrice Moffitt, Rehabilitation Training & Outreach Specialist, presented on "Ethics Through Diverse Lenses." This presentation included case studies to illustrate ways that professionals can recognize and overcome ethical dilemmas.
­Farrow, immediate past president of MAER, felt that the conference provided an opportunity to hear about new ideas and observe the management of virtual sessions.  Two NRTC staff members, Sylvia Stinson-Perez and Dr. Adele Crudden, attended the conference. Crudden enjoyed learning from other professionals and was encouraged to see "broad participation from across the state and even some out-of-state participants" due to the conference's virtual format.
Moffitt felt that a highlight of this year's conference was the opportunity to hear personal stories from persons who are B/LV. As Antonelli explained, these presentations reinforced that "each individual with blindness or low vision has a different experience related to transition depending on their vision level, support system, and available resources." Antonelli continued that "while many issues and needs may be shared, people will approach them in unique ways based on their strengths and challenges." This kind of discussion provided an opportunity for NRTC staff in attendance to consider and discuss the potential long-term impact of our research and outreach to address such unique needs.