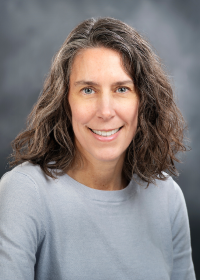 Dr. Michele McDonnall, NRTC Director, was awarded the prestigious John H. McAulay Award. This award, from the Association for Education and Rehabilitation of the Blind and Visually Impaired, was established to "honor professionals who have contributed outstanding efforts and achievements leading to the placement of people with visual impairments in productive employment."
Anthony Candela, a member of the NRTC Advisory board, nominated McDonnall for this award. In his nomination, Candela spoke of her steadfast loyalty, diverse research program, and her history of providing extensive support to her staff and the field of blindness and low vision.
Four NRTC researchers wrote a letter of support for her nomination. Together, Adele Crudden, Karla Antonelli, Jennifer Cmar, and Anne Steverson emphasized her outstanding record of promoting the employment of persons with vision loss through scholarly publications, securing funding, and mentorship of fellow researchers, post-docs, and graduate students.
McDonnall is appreciative of being nominated and selected for this respected award. She is "thankful for this recognition and the support of her staff."
This is the second time an NRTC researcher has received this honor. In 2008, Adele Crudden was awarded this recognition.