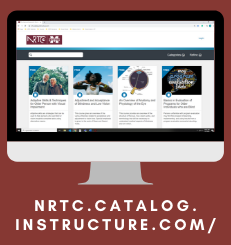 A key component of the NRTC mission is to enhance the employment and independent living outcomes of individuals who are blind or visually impaired. One way we do this is to provide free training to professionals in the form of our online short courses. These courses translate our research findings so that professionals can incorporate our products and recommendations into their daily work to continue to provide the best service to consumers.
To ensure that our short courses continue to be effective and accessible, we moved our courses to a new learning management system. This system is compatible with VoiceOver, JAWS, and NVDA. Along with accessibility, the system provides the opportunity for users to create an account that lets students keep track of their course progress, print off certificates, and engage with the content through comments and messages with the course developers.
We offer courses ranging from introductory topics like how to read an eye report to more complex topics, like employer attitudes. Along with our standard courses, we offer two more in-depth trainings:
Improving Business Development Skills: A Training for Rehabilitation Professionals
Randolph-Sheppard Staff Training
In total, we currently have 38 free courses – with many more in development!
Some courses have video recordings, while others consist only of text. Our courses offer a range of credit options, including the Commission on Rehabilitation Counselor Certification (CRCC), Academy for Certification of Vision Rehabilitation & Education Professionals (ACVREP), and National Blindness Professional Certification Board (NBPCB).
For more information about our courses, visit our Frequently Asked Questions course page.