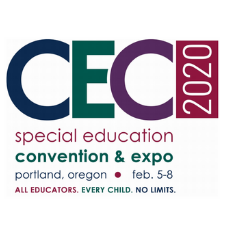 NRTC Director Michele McDonnall and researcher Jennifer Cmar attended the Council for Exceptional Children 2020 Convention in Portland, Oregon. This conference for students, professionals, and researchers provided the opportunity to learn about trends and emerging practices in the field of special education.
McDonnall and Cmar presented on the NRTC's job-search skills training program for transition-age youth with visual impairments developed as part of the NRTC's Summer Work Experience Plus research project. The researchers presented the results of the quasi-experimental study and discussed implications for professional practice. Cmar, principal researcher for the project, hopes the presentation "encouraged attendees to think critically about their model of providing sponsored work experiences to youth with visual impairments."
Along with presenting, they attended sessions on print and tactile graphics, cross-state variations in special education eligibility criteria, and prevalence rates for students with visual impairments.