Insights from our Latest Employment Webinar: Leveraging Your Disability to Find a Job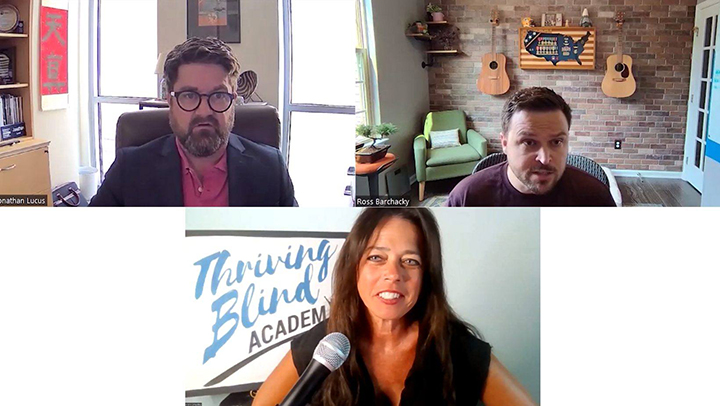 In a recent webinar hosted by the National Research and Training Center on Blindness and Low Vision (NRTC), three prominent speakers - NSITE Executive Director Jonathan Lucas, MPA, EML, inclusively VP Ross Barchacky, and Thriving Blind Academy founder Kristin Smedley - shared valuable insights on how individuals who are blind or have low vision (B/LV) can turn their disability into a strength with job searching. 
Lucus challenged the traditional view of blindness as a limitation. He highlighted that adaptability, a byproduct of living with visual impairment, is a coveted skill in the job market. Additionally, the daily challenges faced by those with visual impairment refine their problem-solving skills. Lucus also mentioned NSITE's role in providing specialized training and job boards for this community, bridging the gap between employers and candidates.
Barchacky emphasized the value of the job search journey, viewing it as a path to personal growth. He stressed the importance of networking and introduced inclusively, a platform that connects job seekers with disabilities to employers who want to hire them. Employers hire inclusively to help them identify, hire, and support employees with disabilities.
Smedley introduced the "playlist of strengths" concept, representing each individual's unique talents and experiences. She encouraged a shift in focus from what's lost to what's gained, positioning oneself as an asset to employers. Smedley shared inspiring stories, like that of artist Clarke Reynolds, who creatively integrated braille into his artwork. She also underscored the value of mentorship in navigating professional challenges. 
The overarching message from the webinar was clear: living with B/LV offers a unique set of skills and strengths that can be leveraged in the job market. By emphasizing strengths such as problem-solving skills and adaptability, individuals can present their visual impairment not as a limitation but as a valuable asset. With resources like NSITE, inclusively, and Thriving Blind Academy, and the support of mentors, friends, and family, the journey of finding a job becomes not only feasible but empowering. 
This is the fourth webinar in our Employment Insights with the NRTC series. If you missed the webinar or would like to share it with others, visit our webinars and podcast page to watch the recording and check out our earlier webinars.
Current Research Highlight: Interactive Video for Employers
Negative employer attitudes pose a substantial hurdle for individuals who are B/LV seeking employment. The purpose of this study is to develop and evaluate an interactive video for employers to increase their knowledge and improve perceptions about people who are B/LV in the workplace. The video is "interactive" because viewers will be able to select which videos to watch based on the questions about B/LV they are most interested in.
Since we last featured this project in our newsletter, we completed the development of the interactive video, including filming portions of it at the Mississippi State University (MSU) Television Center. We then conducted a pilot test with MSU students to evaluate reactions to the videos with biometric data (galvanic skin response, facial expression) as well as general feedback. This data was analyzed, leading to video refinements based on the results.
The first efficacy study, a randomized controlled trial with 159 MSU students, was conducted in January 2023, with follow-up data collected in April 2023. The results demonstrated that students who viewed the interactive video significantly improved in knowledge, attitudes toward people with B/LV as employees, and intent to hire that were retained at follow-up.
Preparations for a second efficacy study with participants who are in hiring positions began in the summer. We are collaborating with local groups, including MSU's Office of Inclusive Excellence and the Greater Starkville Development Partnership, to identify participants. Data collection began at the end of September and will continue through the spring of 2024. Once data collection is complete, we will prepare the interactive video to be released for general use. 
For more information about this research project, visit our research project webpage.
Training and Technical Assistance
Guide for Hosting White Cane Awareness Day
Organizing your White Cane Awareness Day celebration? Check out our free Community Outreach Guide: How to Host a White Cane Awareness Day Celebration (October 15). It will provide inspiration for activities (from a signing ceremony to a large, public event) and offer general event tips to support you as you create a successful celebration. 
Other NRTC News
Spotlight on Successful Employment
The NRTC has a new person featured in our Spotlight on Successful Employment! Timothy L. Jefferson knew he would lose his eyesight from an early age. Knowing that, he set out to create a higher standard for himself of how blind people are represented in the workplace. Learn more about Timothy and other B/LV employees on our Spotlight on Successful Employment page.
NRTC Welcomes New Employees and Changes Location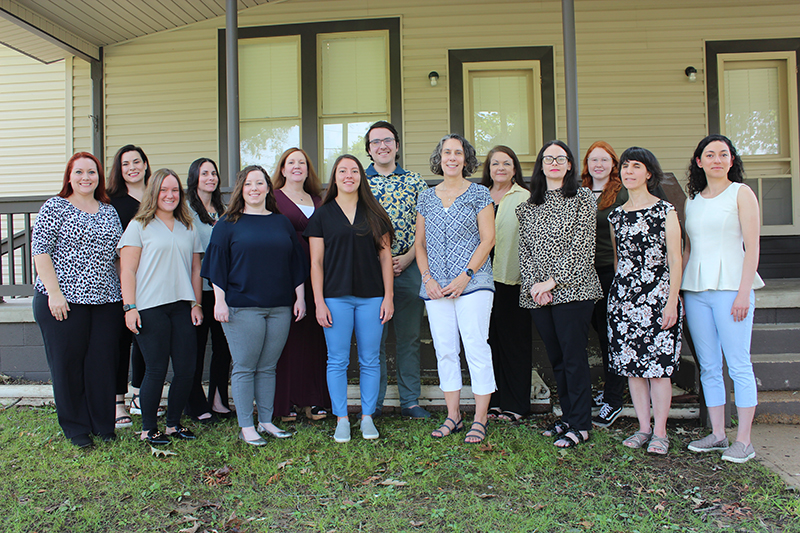 The NRTC has a new home at MSU! The center recently moved from the Industrial Education Building to two remodeled houses on Margan Avenue. This new setting offers a quiet and relaxing front porch - perfect for outside meetings and social interaction. The NRTC would also like to welcome our new team members. 
Karma Marshall is the Outreach and Training Coordinator for the National Institute on Disability, Independent Living, and Rehabilitation Research (NIDILRR) grant. She joins the team with many years of experience in the vocational rehabilitation field. 
Isaiah Postenrieder is the new Program Coordinator for the Older Individuals who are Blind Technical Assistance Center (OIB-TAC). He will manage the projects' logistics, scheduling, activity tracking, and copy-editing tasks. 
Tina Clark is our new Business Coordinator. Tina will assist the NRTC with fiscal administrative support for the center's grants. 
Brittany Greer is the new Communications Coordinator. She will manage all external communications for the center, including disseminating research results and interacting with stakeholders.
To learn more about NRTC staff, visit our Faculty and Staff page.
NRTC Adaptive Sports Community Outreach Event
The NRTC recently hosted a community outreach event, Play Without Limits: Adapting Sports and Games for the Blind, on September 27 at MSU. The purpose of the event was to raise awareness about B/LV and provide guidance to other organizations that could host adaptive sports awareness events through the development of a community outreach guide, which will be available in 2024. 
The event featured an information booth with activities including bocce ball, soccer, and corn hole. The NRTC hopes that this event will spread awareness, provide education opportunities, and perhaps spark interest in students to work in the B/LV field. The event alights with the NRTC mission to enhance employment and independent living outcomes for individuals with B/LV through research, training, education, and dissemination. 
The NRTC is on YouTube and Instagram
The NRTC has joined YouTube and Instagram! Be sure to subscribe to our YouTube channel and Instagram for videos, webinars, and other information related to B/LV.
Publications, Presentations, and Miscellanies
Publications
McDonnall, M. C. (2023). Challenges with AT in the workplace: Accessibility issues top the list. AccessWorld. https://www.afb.org/aw/24/6/18368
McDonnall, M. C., Cmar, J. L., & McKnight, Z. (2023). How degree major and demographic factors influence employment and earnings for college graduates with visual impairments. Rehabilitation Counseling Bulletin. Advance online publication. doi.org/10.1177/00343552231187587
McDonnall, M. C., Sergi, K., & Steverson, A. (2023). Comparison of assistive technology use and beliefs among employed and unemployed people who are blind. The New Re:View. Advance online publication. doi.org/10.56733/TNR.22.012
Ottowitz, J. (2023). Shining a light on inclusion: Empowering people with vision impairment. American Society on Aging Generations Now. https://generations.asaging.org/inclusion-people-vision-impairment
Cmar, J. L., & Antonelli, K. (in press). Feasibility and acceptability of implementing a job search intervention for adults with visual impairments via videoconferencing. Journal of Visual Impairment & Blindness. 
McDonnall, M. C., Cmar, J., & McKnight, Z. S. (in press). College degree majors and associated earnings: Are there differences for people with visual impairments and the general population? Journal of Vocational Rehabilitation.
Upcoming Webinars
October 20 (2:00 pm CST) – Putting Adult Learning Theory Into Practice: Does service delivery feel stuck in predictable patterns? Is it a struggle to convince consumers they need services beyond magnification? This session will explore adult learning principles and suggest ways to incorporate them into assessment, goal setting, and instruction. Whether you are an experienced service provider or someone new to the field, these strategies for working with adults will build your professional toolkit for working with adults.  To learn more and register, visit our event page. To learn more and register, visit our event page. 
Upcoming Presentations
Ottowitz, J. (2023, November 1). Following the best route for providing assistive devices. AVRT/NEAR Conference, Portland, ME.
Dalton, S. & Ottowitz J. (2023, November 2). Getting on top of countertop cooking: Training considerations, options for consumers/students, and planning lessons. AVRT/NEAR Conference, Portland, ME.
Ottowitz, J. (2023, November 3). More than knowing the code: Techniques for teaching braille to adults. AVRT/NEAR Conference, Portland, ME.
McDonnall, M. C. (2023, November 28). Starting point: The present state of employment and assistive technology utilization among people who are blind or have low vision. Florida AER Conference, St. Pete Beach, FL.
McDonnall, M. C. (2023, November 29). Looking forward: Pioneering research and employment resources. Florida AER Conference, St. Pete Beach, FL.