Current Research Highlights: Exploration of Secondary Data to Increase our Knowledge About Subpopulations of Individuals who are Blind or Visually Impaired and WIOA Impacts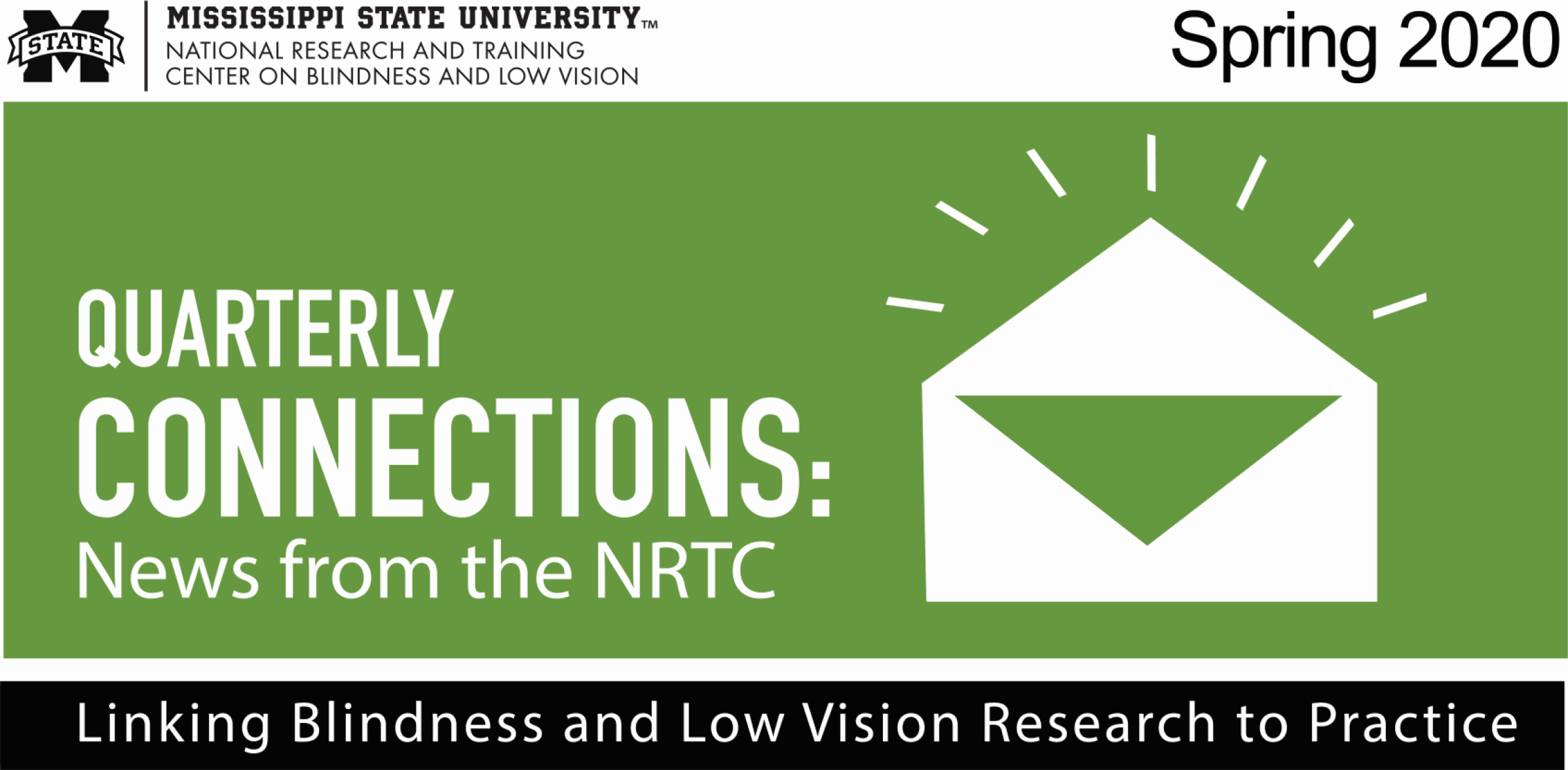 Every year, researchers learn more about the factors that influence whether people who are blind or have low vision (B/LV) are able to find and maintain jobs. However, almost none of this research has focused on people who are deaf-blind (DB) or on individuals with combined B/LV and traumatic brain injury (TBI).
In order to address these knowledge gaps, researchers from the NRTC used data from large datasets and interviews with vocational rehabilitation (VR) agency administrators to explore questions around employment for people who are DB and for those with combined TBI and B/LV. The impact of the federal Workforce Innovation and Opportunity Act (WIOA) of 2014 was also explored. Several additional studies focusing on employment of people with B/LV were also conducted, including systematic literature reviews and an analysis of employment trends over time with large national datasets.
This project is now reaching its conclusion after five years, and over a dozen peer-reviewed publications and other products have been created based on the findings. Notable discoveries from recently published articles include:
Other products created as a result of this project include:
As this project comes to a close, a handful of additional peer-reviewed studies will be released in the months to come. To learn more about this project and view a list of related outputs, visit the project page on the NRTC website.
---
Training and Technical Assistance
New Products
We created a trifold "You Can Work!" brochure that provides information for persons with newly acquired vision loss about the services available to support them in efforts to maintain or obtain a job. The brochure includes a link to an associated guide that provides more detailed information about services, resources, and tools related to vision loss. You can find both on our website under Resources for Professionals.
New Online Courses
We have four new courses available:
All courses are available through our learning management system. For more information about our courses, visit our Frequently Asked Questions course page.
---
Other NRTC News
Redesigned Website
Our main website, www.blind.msstate.edu, has been redesigned for a new look! This website hosts our research results, publications, products, and information about training activities. Please check out our redesigned website and let us know if you have any feedback.
Vision Specialist Program Accepting Applications
Our Vision Specialist in Vocational Rehabilitation graduate program is accepting applications now through October 1. This rigorous master's level curriculum includes evidence-based research findings and practical applications and is for vocational rehabilitation counselors and vision rehabilitation professionals. This online program will start in January and conclude in December.
Approximately 12 students will be awarded stipends with the support of a Rehabilitation Services Administration long-term training grant. For more information about the program and application process, visit www.blind.msstate.edu/training/vision-specialist-program.
4to24 App Deaf-Blind Version Starts Field Testing
The NRTC's employment-focused "4to24" app for parents of youth with deaf-blindness (DB) is in its final stages of development. This version of the app is designed specifically for parents or caretakers of children and youth between the ages of 4 to 24 years old who are deaf-blind, or have combined visual and hearing impairment, and additional disabilities. The app will help parents focus on building skills for communication, independent living, and preparing for employment starting from an early age. If interested in signing up to be a field tester or learning more, please register at msstatecoe.co1.qualtrics.com/jfe/form/SV_4UxsxJJxeCPqXGJ
---
Publications, Presentations, and Miscellanies
Publications
Cmar, J. L., & McDonnall, M. C. (2020). A curriculum for teaching job search skills to youth with visual impairments. Visual Impairment and Deafblind Education Quarterly, 65(2), 74-86
Lund, E. M., & Cmar, J. L. (2020). A systematic review of factors related to employment in transition-age youth with visual impairments. Rehabilitation Psychology, 65(2), 122–136. 
McDonnall, M. C., & Lund, E. M. (2020). Employers' intent to hire people who are blind or visually impaired: A test of the theory of planned behavior. Rehabilitation Counseling Bulletin, 63(4), 206–215. 
McDonnall, M. C., Cmar, J. L., & Tatch, A. J. (2020). Importance of agency context for long-term effectiveness of a business development training for rehabilitation counselors. Journal of Vocational Rehabilitation. Advance online publication. DOI: 10.3233/JVR-201081
McDonnall, M.C., Cmar, J.L., & Sui, Z. (2020). Service factors and personal characteristics associated with employment and job quality for vocational rehabilitation consumers with combined traumatic brain injury and visual impairment. Journal of Vocational Rehabilitation, 52(3), 223-238. DOI: 10.3233/JVR-201073
McDonnall, M. C., & Tatch, A. J. (in press). Educational attainment and employment for individuals with visual impairments. Journal of Visual Impairment & Blindness.
McDonnall, M.C. & McKnight, Z. S. (in press). The association between presenting visual impairment, health, and employment status. Journal of Visual Impairment & Blindness.
Upcoming Presentations & Workshops
Cmar, J. L., Moffitt, C., & Steverson, A. (2020, July 28-29). Putting Your Best Foot Forward Trainer Workshop [Webinar]. National Research and Training Center on Blindness and Low Vision.
Rogers, P. (2020, July 10). Transportation Options for Older Consumers with Vision Loss [Webinar]. Older Individuals Who are Blind – Technical Assistance Center. 
---