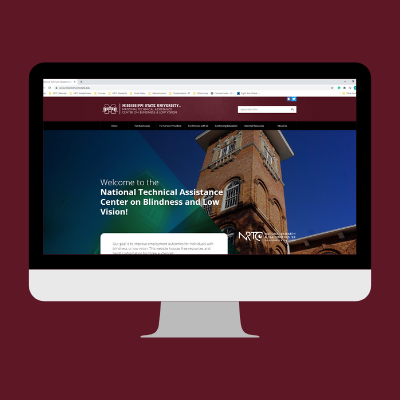 Our technical assistance website, the National Technical Assistance Center on Blindness and Low Vision (NTAC-BLV), has been redesigned. This website, www.ntac.blind.msstate.edu, includes sections for three primary groups:
Employers
Service providers
People who are blind or have low vision (and their family members).
We use the NTAC-BLV to deliver information, research-informed recommendations, resources, and assistance to people in all three groups. Simon Marcy, Web Designer, managed the redesign and believes the transformation will allow us to "better provide services and resources to all of our audiences."
Employers will benefit from our question page that addresses concerns like "What are the legal requirements of hiring someone who is blind or has low vision?" and "How can I help a current employee who is experiencing blindness or low vision?" The website also provides general information about blindness and low vision, types of jobs that blind people perform, and stories about specific blind employees.  
Service providers will find our free resources, continuing education courses, and best practice recommendations especially useful. We are excited about a new resource for service providers: a Job Board Posting Form. Starting in February, organizations in the field of blindness and low vision can submit vacant jobs for us to post on our website for potential service providers to review current job openings in the field.
Individuals with blindness and low vision will find tips to help maintain and find employment – from actionable steps when first experiencing vision loss to a transportation guide. Information for people new to vision loss and about services for people with blindness or low vision are also provided in this section.
We continue to offer website visitors the opportunity to ask NRTC staff technical assistance questions, via an online request form or by phone, to receive personalized help. Emily Damm, Communications Coordinator, is pleased by the website's transformation. She hopes that the visitors to our website will find it easier to navigate and find resources.
Please visit our redesigned website and let us know your feedback by emailing Simon Marcy at smarcy@colled.msstate.edu.