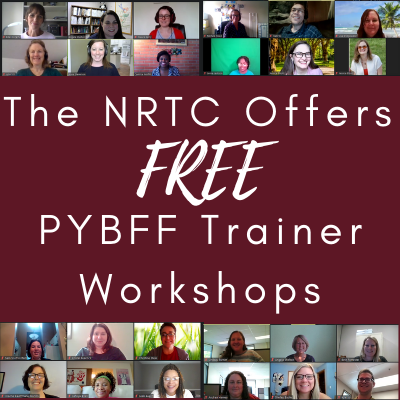 The NRTC is offering several Putting Your Best Foot Forward (PYBFF) Trainer Workshops in 2021, starting with January 26-27. Participation in the workshop is required to obtain access to the new PYBFF training curriculum. PYBFF is a job search skills training program for transition-age youth (15-22 years old) with visual impairments that includes about 40 hours of content on topics from preparing for an interview to disability disclosure. It was created as part of a research project that had a goal of improving job-search attitudes, behaviors, and outcomes for participating youth. Jennifer Cmar, NRTC Assistant Research Professor and the project's principal investigator, was happy that PYBFF led to several positive outcomes for youth. She hopes that the trainer workshops will broaden the reach of PYBFF, allowing many more youth to benefit from the program.
The free, 8-hour workshops are open to professionals who provide direct services to transition-age youth with visual impairments, such as vocational rehabilitation agency staff, vision rehabilitation therapists, special education teachers, and teachers of students with visual impairments. They are conducted via Zoom videoconference software as an interactive, online workshop. Despite the distance format, previous participants have said that they feel connected, "enjoyed the interactive nature of the training," and appreciated the meaningful opportunity to "connect with other practitioners" in the field around the world.
Along with training on PYBFF content and materials, workshop participants will learn group training techniques and practice some activities to balance learning and contributing. Cantrice Moffitt, NRTC Rehabilitation Training & Outreach Specialist, believes that "putting what is learned into practice and getting feedback from peers is a highlight of the workshop for most participants." She emphasizes that the goal of this workshop is that trainers have the confidence they need to implement the program successfully.
Participants are also eligible to earn up to eight ACVREP continuing education credits. After completing this training, participants can implement the PYBFF program – whether as a stand-alone course or integrated into another course or summer transition program.
The NRTC has already held five PYBFF Trainer Workshops. Anne Steverson, NRTC Research Associate, was excited that those previous workshops were filled quickly, which reflects the need and interest of service providers in the field. During the trainings, Steverson was happy that attendees seemed "enthusiastic and engaged."
Join the course waitlist to be notified of future trainer workshop dates. At least two people from your organization must participate in the same workshop. This is because the program is designed to be implemented by two trainers with 10-15 youth.
For those interested in learning more about the research results and impact of the PYBFF program, consider taking our free course Job Search Skills Training for Transition-Age Youth, which is worth one-hour of CRC, ACVREP, and NBPCB credit. The NRTC also has several resources for transition-age youth, including videos on how to prepare for a video interview and fact sheets regarding Supplemental Security Income. These are available on our website under Transition Resources.