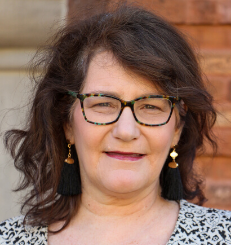 The NRTC is excited to welcome Catherine Hultman as the Project Manager for the OIB-TAC grant. She will also provide project management assistance for the NRTC's Vision Specialist Graduate Certificate Program grant.
In this position, she will support the planning, implementation, and tracking of both projects. Sylvia Perez, OIB-TAC Project Director, believes Catherine will "be another great member of the OIB-TAC and Vision Specialist graduate program team."
For almost seven years, Catherine served as the coordinator for testing services at the University of Mississippi. In this position, she created training materials, collaborated with external agencies, and oversaw data collection. Catherine says she is "thrilled to contribute her skills and experience in creating collaborative relationships for the success of the OIB-TAC program."
She earned her master's in higher education and a bachelor's in secondary English education at the University of Mississippi.