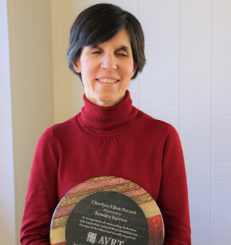 Kendra Farrow, research and training associate, attended the Association of Vision Rehabilitation Therapist (AVRT) Conference in Jacksonville, Florida, in December. As a vision rehabilitation therapist, Farrow felt it was important to attend to "learn about successful strategies and the current challenges in the field."
Farrow presented on some of NRTC projects, specifically our 4to24 app and "Putting Your Best Foot Forward" curriculum. She also had opportunities to share about OIB-TAC resources. The conference provided many networking opportunities. Last year, Farrow made a contact that led to an article that is in press with the Journal of Visual Impairment & Blindness. So, she is confident that this year's conference will also lead to future collaborations.
While in attendance, Farrow was awarded the 2019 Charlyn Allen Award for "outstanding dedication and leadership in the field of rehabilitation therapy of the blind and visually impaired." She was nominated for her many contributions to the field, including presentations at local and national conferences, publications, and products. Farrow is "humbled to receive this award that has been given to so many remarkable individuals who dedicated their lives to the service of rehabilitation of persons with blindness or low vision."
In 2014, B.J. LeJeune, previous NRTC training supervisor, was awarded this recognition.