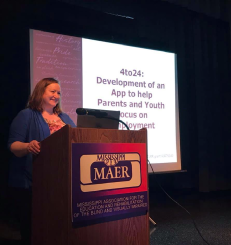 Many NRTC research and support staff participated in the Mississippi Association for Education & Rehabilitation of the Blind and Visually Impaired (MAER) Conference on October 4-5 in Jackson, Mississippi. The conference provided opportunities to learn about new technologies, meet professionals, and seek future collaborations.
The knowledge shared at MAER is especially complementary to our current researchers' work in employment. Dr. Zhen (Carol) Sui, research associate, enjoyed getting to learn more about the state-of-the-art assistive technologies presented there by vendors, researchers, and users. She left the conference "inspired to consider the human-technology interactions that assistive technology has in the workplace regarding job retention and career advancement for people with blindness and low vision."
Given the fast-paced environment of technology development, Dr. Andrew Tatch, research associate, was interested in learning about the current trends of apps and assistive technology related to transportation, navigation, and spatial mapping. He appreciated that the conference provided a "realistic sense of the larger systems that frame [his] research questions" to ensure his research is guided by practicality.
Attending conferences, like MAER, also provides the opportunity for our staff to interact with professionals in the field, established organizations, and groups in Mississippi with a similar goal to address issues related to blindness and low vision.
Kendra Farrow, research and training associate, enjoyed the opportunity to connect with her fellow vision rehabilitation professionals in Mississippi. Similarly, Cantrice Moffitt, Rehabilitation Training & Outreach Specialist, believes that the opportunity to network with various professionals in vision rehabilitation will "lead to future collaborations and opportunities to provide outreach."
Along with attending, Farrow presented on a volunteer National Federation of the Blind mentoring program and shared information about NRTC transition resources including the new Supplemental Security Income and Work Fact Sheets . Dr. Karla Antonelli, research scientist, presented on 4to24, the employment-focused app for youth and parents of youth with blindness or visual impairment (B/VI) or deaf-blindness (DB). Both believe that contributing to knowledge in the field is vital for a vibrant community.
Other highlights include that two NRTC team members, Dr. Adele Crudden and Farrow were awarded two esteemed awards. More information can be found on that news item here.
Emily Damm, communication specialist, was glad that the NRTC has such an active role in the conference and is "already excited for near year's conference!"