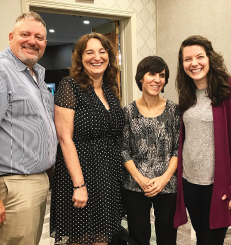 The Older Individuals who are Blind (OIB) Technical Assistance Center hosted an inaugural OIB Program Manager's Technical Assistance Conference September 10-12 in Minneapolis, Minnesota. The conference provided OIB program managers from 35 states and territories an opportunity to learn about best practices, data collection and analysis, and trends in OIB programs.
Sylvia Perez, OIB-TAC Project Director, felt that the conference reflected the OIB-TAC mission perfectly. Perez explained that "It's all about helping older people with visual impairments become more independent—and this conference helped put that back in focus for many."
The conference included several roundtable discussions on topics such as community outreach, information and referral, program evaluation, and cultural competence. Kendra Farrow, NRTC Research & Training Associate, presented on data collection. Farrow hopes that providing technical assistance for the report and discussing inconsistencies will "improve the reliability of the information provided to RSA in future 7-OB reports."
While the presentations and training were valuable, the conference also provided the opportunity to connect with new collaborators. Bill Tomlin, Project Manager, believed that the conference "provided an excellent opportunity to network, share ideas and help the program managers understand that they are not facing the challenges of running a state program alone."
Perez said "it was very exciting to help OIB programs generate new and innovative strategies for their programs, to hear the passion and excitement in their voices as they gained new knowledge and met new friends they can connect with in the field, and know that everyone who attended will take new strategies back to their OIB teams and consumers." She is proud of the contribution the OIB-TAC conference made to the older blind program and is excited for the 2020 OIB-TAC Conference.
Throughout the conference, Emily Damm, NRTC Communication Specialist, utilized social media to share pictures and information. To view these pictures, search social media with the hashtag #OIBTACCon or visit our Facebook and Twitter page. To stay up-to-date on OIB-TAC activities, visit https://www.oib-tac.org/.