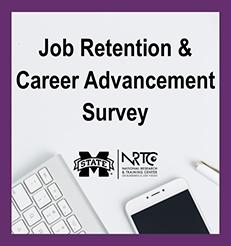 Have you had success or difficulty keeping a job? Have you had success or difficulty moving up the career ladder? The National Research and Training Center on Blindness and Low Vision at Mississippi State University is recruiting participants for a survey about job retention and career advancement.
The survey may be completed electronically at tiny.cc/retention_advancement or you may call 1-662-546-0737 and request an appointment to participate by telephone. The survey will close Monday, August 19 at 8 a.m.
Please share your experiences of attempting to keep or advance in a job, even if those experiences were not successful, and share this announcement with coworkers, family, and friends who may be eligible to participate. Participants who complete the survey may enter into a drawing for a gift card for $100. Please know this survey is long – it may take you 30 to 40 minutes. For assistance or further information, contact Anne Steverson (acc155@msstate.edu), Adele Crudden (ac41@msstate.edu), or visit the project overview webpage.