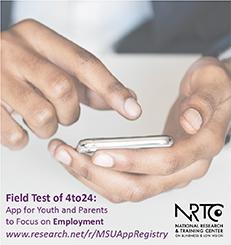 After years of hard work, the NRTC's employment-focused app for youth and parents of youth with blindness or visual impairment (B/VI) or deaf-blindness (DB) is in its final stages – field testing!
We are currently recruiting people to field test the app, which will require youth with B/VI and parents of youth with either B/VI or DB to download and use the app and offer feedback on the app's final design. Karla Antonelli, the project director, says that "a lot of hard work has brought us to this point" and that she is excited to see how the app is received to get feedback that "will make the app even better!"
The field test of the app will involve asking testers to use the app as they normally would for a six-month trial period, and to complete some surveys about the app and the user's experience. The development team will use the feedback from testers to evaluate the app's design, and to make any needed updates before its public release.
If you are interested in signing up to be a field tester or learning more, please register at www.research.net/r/MSUAppRegistry.
The B/VI version of the app is due for release in Summer or Fall 2020, followed by the DB version of the app. The app will be compatible with iOS, Android, and web platforms.
For assistance or further information, contact Anne Steverson (acc155@msstate.edu) or Karla Antonelli (kantonelli@colled.msstate.edu).